Welcome to The 1000 Year Theatre. What makes this place a theatre? Well, it is a stage for you to act. Start at the beginning with Year 1, and play your part through 5 acts in the tiny forest in the slow performance of regeneration. You are imagineer, builder, dreamer, in charge of the fierce hope of the future. Take your places. The show is about to begin. Actors, standby to enter. This is your cue. And…go.
Materials: Reclaimed Cedar, reclaimed posts, 1 old bedsheet, 1 repurposed garden tool, brackets and screws.
Time: Allow 20 minutes to drive up the logging road from the Gumboot. You can mountain bike there, if you have an appetite for hills. Allow 30-45 minutes for the walk and site interactions.
Accessibility: The drive or mountain biking road is a gravel logging road with potholes. It does not require 4 wheel drive unless there is snow. The Year 1 site contains a rough trail over a recent clearcut. Expect uneven ground, soft and shifting ground, tripping hazards, ash and dust, and plants with prickers. The trail is mostly level but there is a short steep descent at the beginning and a gradual ascent at the end. The site can be hot in the sun. Wildlife, including elk, bear, and blue grouse are sometimes present on site. Wear sturdy shoes, long socks, sunhat and bring water. The site is not accessible for every body. Please take good care and self-select if this site is not for you.
Directions to YEAR 1 of 1000 Year Theatre:
---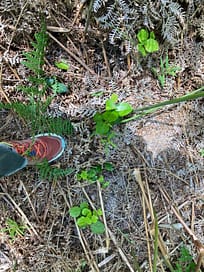 ---
Look, google maps won't help you so pay attention. There are no real signs up there. Just odd pieces of flagging tape that don't indicate anything useful. Finding this site is mostly about ignoring tempting side roads. Start at the Gumboot. They have the best muffins. Go uphill on Roberts Creek Road until you hit the light. Turn right. After Cliff Gilker Park entrance look for the B & K road on your left, Googlemaps calls it Largo Road. There is a white sign for Sunshine Coast Equestrian there, and a plastic flower altar. Drive up the B&K/Largo Road you will see parking lots at the powerlines. Continue. Drive past the powerlines and you'll see the KM 1 marker. Continue! You'll pass the Provincial Park Boundary and then the KM 2 marker. You'll pass the Roberts Creek Forest Service Road. Ignore it. Don't turn left. You'll see a sign for Mt. Elphinstone. Go straight past it. You'll see another provincial park boundary sign. Keep going. The road is rising. Pass KM 3, KM 4. Pass Sechelt-Roberts Creek Service Road. Don't take that. Continue left up the road. Don't take the next two spurs up to the right. They are deactivated. There's a sign to Secret Guys Gultch Forest Service Road. Don't take that either. Continue to KM 6, KM 7. There's an option to go left, but don't do it. There's another spur cutting up the trail. Ignore this too – it's just for sledding. Pass KM 8. There's a big curve, the road starts coming down. Stay left. Don't take tempting right turns towards Dakota Bear Sanctuary. You'll cross a bridge and pass a big clearcut on your left, with huge stumps. Continue. Our site is the very next opening on the left. You will see the sign on the road with luck. You may turn left and park there. You'll see a big snarl of stumps at the top and a crater of charred ground. This is the spot. Follow the signs on the circular trail. Bring water and wear good footwear.
---
Artist Bio
Kendra Fanconi is a co-founder and the Artistic Director Emeritus of The Only Animal, a 17-year-old company that is uniquely dedicated to theatre that springs from a deep engagement with place, and towards solutionary outcomes for this climate moment. She is known for her love of the impossible. Selected Credits for directing/writing: Magic Hour, directed by Kim Collier, Slime, written by Bryony Lavery, tinkers, based on the Pulitzer-Prize winning novel by Paul Harding, Nothing But Sky, a living comic book (Jessie for Significant Artistic Achievement), NiX, theatre of snow and ice, at the 2010 Cultural Olympiad and Enbridge Festival, Alberta Theatre Projects 2009, (Winner of Betty Mitchell Award and Vancouver's Critic's Choice Award for Innovation) and Sea of Hearts with 1000 climate protestors. Current projects include A Thousand Year Theatre and The Deep. Kendra founded and led the Artist Brigade, bringing arts and artists to the front lines of the climate movement, resulting in 19 commissioned works and counting among its impacts, a contribution to the preservation of the old-growth forest, Dakota Bear Sanctuary and the Songbird Forest. Kendra contributes to this work in art/climate on the National level as a founding member of SCALE, Sectoral Climate Arts Leadership for the Emergency, and co-founder of Irresistible Worlds. Kendra is a farmer, a forager, and mother to two kids who are real characters.