Slow Socials are a series of gatherings from The Only Animal that invite our communities to connect through relaxed textile creation, inspiring environmental readings, eclectic music and 'yarn-camaraderie'. Join our team in crocheting and knotting a set piece for our traveling Slow Practice installation, help with easier, relaxing activities like colour sorting yarns and threads, bring your own craft work, or catch up on some social coziness as we head into the darker months. We'll provide thrifted materials and a beginner's lesson at the start of each event.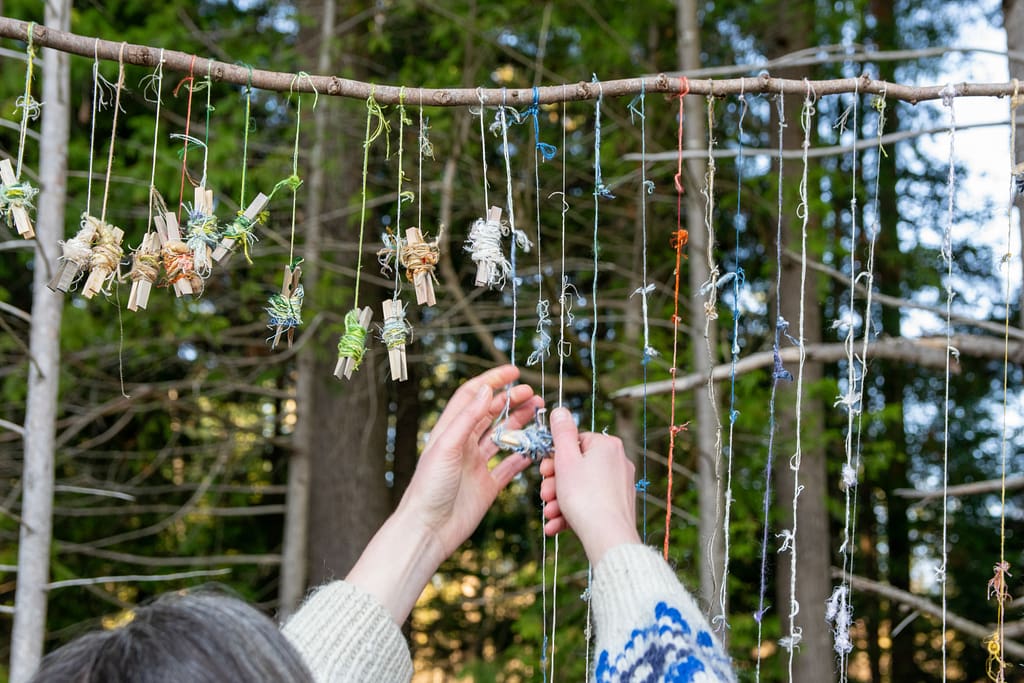 Come be part of a cultural shift that values relationships – with humans, more-than-humans and land – over capital. Let's talk about our working conditions and how capitalist and colonial drives, to relentlessly produce and consume, are holding us back from a culture of stewardship.
We're partnering with the Sunshine Coast Arts Council, The Roundhouse Community Centre and Vancouver Improvised Arts Society and community groups to offer Slow Socials across the province. To receive invitations for upcoming Slow Socials, subscribe to The Only Animal's newsletter.
---
The Only Animal, The Public Swoon and SFU School for the Contemporary Arts present Slow Social | #2,#3
Monday, November 27 5:30 pm – 8:30 pm
Monday, December 11 5:30 pm – 8:30 pm

Studio T – SFU Goldcorp Centre for the Arts
FREE

The Only Animal presents Slow Socials, an ongoing series of gatherings that invites our communities to connect through relaxed textile creation, environmental readings, and musique d'ameublement ('furniture music'). Join our team in crocheting, knotting and knitting a set piece for our travelling Slow Practice installation, bring your own craft work, or catch up on some social coziness as we head into the dark months. We'll provide materials and a beginner's lesson at the start of the event. For Slow Socials #2 and #3, we'll be hearing selections from Freedom is a Constant Struggle, by Angela Davis (2015).
Featuring
Mx.Bukuru
The name is Mx Bukuru, a melanated, nonbinary, draglesque, fantasy being from your dreams. With a tight lip sync and dancing feet, their performance will leave you wanting more.
---
Aram Bajakian (November 27)
The music of guitarist and composer Aram Bajakian music has been called "a masterpiece" (fRoots, July 2017), "shape-shifting" (FreeJazzCollective, January 2017), and "sometimes delicate, sometimes punishing" (Chicago Reader, January 2018). As a guitarist, "the virtuosic jack of all trades" (Village Voice, May 2015) has toured extensively with Lou Reed, Diana Krall, Madeleine Peyroux, and John Zorn, performing at many of the world's greatest venues, including Carnegie Hall, Royal Albert Hall, the Acropolis, L'Olympia, as well as the Montreaux, Newport, Monterey and Antibes jazz festivals, among others. From 2018-2021 Bajakian served as the New Music Curator at Western Front in Vancouver, one of Canada's leading artist-run centers for contemporary art and new music. Bajakian is currently a PhD candidate in the Department of Ethnomusicology at UBC where his research focuses on the role of music in contemporary and historic Armenian communities.
---
Julia Ulehla (December 11)
Julia Ulehla is an interarts performer, improviser, and scholar who lives on the traditional, ancestral, unceded territories of the xʷməθkʷəy̓əm (Musqueam) people. Her performance practice, research, and writing explore song as a living being, vis-à-vis an ancestral song tradition carried by generations of her family members. Since 2013, Julia has been vocalist and bandleader of the avant-folk ensemble Dálava, with whom she regularly performs throughout North America and Europe. Other upcoming/recent projects include The Tempest Project with Music on Main, The Dardanellas at the Vancouver Jazz Festival, and Nadir Zenith at the Monheim Triennale. Julia holds a PhD in Ethnomusicology from UBC, an MMus in Vocal Performance and Literature from the Eastman School of Music, and a BA in Music (Vocal Performance) from Stanford University. Julia performed as a lyric mezzo-soprano in opera and oratorio from 2002-08, and from 2008-11 she was a member of the renowned laboratory theatre the Workcenter of Jerzy Grotowski and Thomas Richards in Pontedera, Italy. She is currently wrapping up a SSHRC Postdoctoral Fellow in Cultural Studies at Queens University. Her research-creation project explores the "extra-rational" possibilities of the voice, extending the theoretical account of living song into ethical praxis, and developing methods for voice, movement, text, image, theatre, and installation in a community of collaborative artists. Along with a small team of interarts performers, her project aims to explore how co-creative vocal exchanges might aid in developing new forms of anti-colonial analysis, and thereby generate different models for culturally- and practice-rooted forms of "sensory-formalist music analysis" (Robinson 2020) that move beyond current hegemonies of Western music analysis. Julia teaches a course in Performance and Research-Creation at UBC, and recently began as Artistic Associate at Music on Main Society where she will work to develop a platform for Musqueam, Squamish, and Tsleil-Waututh musicians.
---
Sena Cleave
Sena Cleave is an artist living and working on the unceded territories of the xʷməθkʷəy̓əm, Sḵwx̱wú7mesh, and səl̓ilw̓ətaʔɬ peoples, or Vancouver, Canada. They are mixed Japanese and British. Working across text, sculpture, and photographic image-making, Cleave explores the slippage that occurs when materials travel between cultural sites. They pilfer cultural matter from everyday life and repurpose it to address issues of legibility and hybridity in Japanese Canadian experiences. The found matter (which includes objects, images, and textual passages) become recontextualized among one another and, together, they generate something that resembles a whole — one that is jumbled and misbehaving. Together with artist Debbie Chan, Cleave runs The Couch, a mobile art space inspired by carpenter ants to 'infest' art infrastructures and platform emerging artists.
---
Megan Lane
Megan Lane is an interdisciplinary artist based in the Vancouver area with experience in theatre as a technician, a set designer, a performer, and as a puppet maker and puppeteer. Outside of theatre, she is also interested in clothing design, textiles, furniture design, woodworking, visual art, and whatever other creative medium she can get her hands on. Megan graduated from the Stagecraft and Event Technology program at Douglas College in 2019, and from SFU's School for the Contemporary Arts with a BFA in Theatre Production and Design. Currently, she is exploring subjects such as design led creation in performance, devised theatre, tactility within contemporary performance, the intersection between design and performance, interdisciplinarity, and non hierarchical collaboration. Her credits include "Scheherazade" (Vancouver Orchestra), "The Frontliners" (Fringe Festival) and "The Tempest" (Carousel Theatre for Young People). As she moves forward in her artistic journey, Megan is excited to explore all that is to be learned and discovered within the lifelong practice of creativity. Megan is grateful to be living, learning, working, and creating on unceded sc̓əwaθenaɁɬ təməxw (Tsawwassen), S'ólh Téméxw (Stó:lō), Kwantlen, Stz'uminus, šxwməθkwəy̓ əmaɁɬ
təməxw (Musqueam), səlil̓ilw̓ətaʔɬ (Tsleil-Waututh), and Skwxwú7mesh (Squamish) territory.
---
Kinar (Kira) Saragih
Kinar Saragih (Kira) is a textile-based artist who primarily works with crochet and is interested in installations and sculptural forms. Saragih studies traces of human life in non-human forms of existence to contemplate the cosmos through an anti-anthropocentric lens. Operating between the micro and the macro, she invites viewers to explore ideas of what it means to exist within the boundaries of our external and internal spaces, our materialism and the systems of life we are a part of. Born and raised in Jakarta, Indonesia, Saragih currently resides in so-called Vancouver, BC. She is a current undergraduate student studying Visual Arts at the School for the Contemporary Arts at SFU.
Project #1: Slow Calendar
We're currently working with emerging artists Kinar Saragih, Sena Cleave and Megan Lane to create a patchwork textile that will be used as stage curtains for the performance of Mermaid Spring, and shown in-process as part of the AWSS Slow Tour. It first exhibits at "Environments for Reading" at Salmon Arm Art Centre.
We will create and piece together 365 crocheted and knitted patches using salvaged blue yarns. By incorporating a variety of textures and densities, and stitching patches in an uneven grid, we create a ruffled surface evoking feminine clothing and echoing the complex folds of hyperbolic crochet. For AWSS, the fabric represents a cycle of fashion seasons – 365 patches for 365 days. In Mermaid Spring, the blue, netlike fabric will evoke water and cast shadows reminiscent of plantlife. Our process builds on the communal, social activity of patchwork quilt-making in an ecological gesture, making beauty out of scraps.
For purposes of documentation this event may be photographed, audio recorded, and/or filmed. By attending this event, you consent to such recording media and its release, publication, exhibition or reproduction.
---
Top photo by James Meger.